Choi HoYoung, NSD Youth Ministries Director
We are currently living in a challenging era for missions. However, the Public Campus Ministries (PCM) missionary movement's future is bright. This ministry of the Seventh-day Adventist Church was established to inspire Adventist students to be disciples of Jesus and empower them to share the everlasting gospel to secular university campuses. Their mission is to transform colleges, churches, communities, and the world at large. The motto of PCM is: "Follow Jesus, Embrace His Mission, Change the World."
On January 13, 2019, the Northern Asia-Pacific Division (NSD) dispatched nine PCM missionaries to China, Hong Kong, and Taiwan for the first time. The next year, 14 missionaries were dispatched to Taiwan and Mongolia, and the third and fourth groups followed in 2021 and 2022. Currently, nine Adventist college students are serving as PCM missionaries in Taiwan. Since 2019, there have been 42 missionaries from eight countries sent out to secular universities in the NSD territories.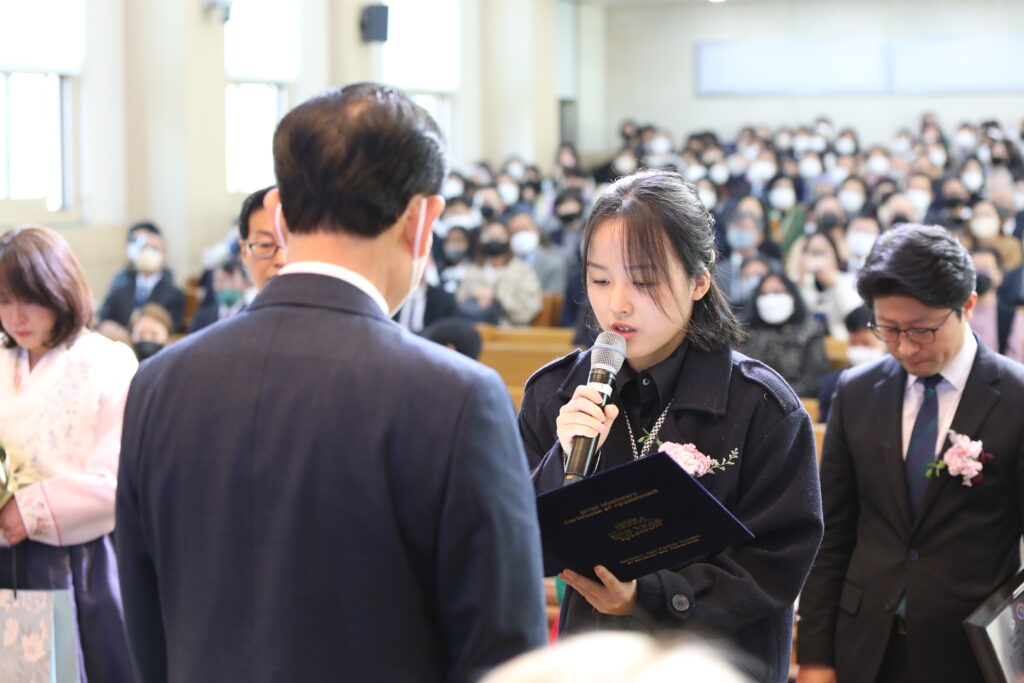 In 2023, this movement will be in its 5th year and is maintaining the momentum of the overseas campus mission movement. On Sabbath, Nov. 5, 2022, NSD held its dedication ceremony for the fifth batch of PCM ministries at the SDA Language Institute Church in Seoul, Korea. There were supposed to be two Korean PCM missionaries at the ceremony but one of them, Bang YoungIn, was unable to attend on that day. But the other missionary, Cho DaNyeong did not stand alone during the ceremony. She was joined by Youth Ministries directors and the newly appointed Pioneer Mission Movement missionaries. Cho is studying nursing at Sahmyook University, attending Byeollae Church and has been engaged in youth activities. She heard about the PCM missionary movement and decided to dedicate a year to the Lord. Bang YoungIn is majoring in Chinese language at Hanbat University in Daejeon and attends Yuseong Church. His church pastor who served as a PMM missionary for six years in Taiwan recommended him to be a PCM missionary.
The NSD Youth Ministries department continues to recruit PCM missionaries with three more young people awaiting interviews. We strongly believe that God has been leading this movement, and we also believe that He will call and use the young people who are best suited to the mission field.
Missionary Cho DaNyeong expressed her resolution as follows: "Standing in front of the people at the dedication service, I realized that I am leaving for my mission field soon to work for God. Rather than trying to do something by myself and focusing on achieving results, I will do my best to follow God's will."
Missionary Bang YoungIn said, "It will be my first time staying abroad for a long time, also my first time to leave the country for other purposes than traveling, so I am a little worried about whether I can do well. However, I believe God will lead me and I will try to be a missionary who spends every moment with God and grateful to Him, so that I can live in His love."
As mentioned in the PCM manual, the primary mission fields of PCM missionaries are the 3Cs: Church, Campus, and Community. It is essential for missionaries to cooperate with local churches. Some of the missionaries in Taiwan attend language classes at universities, organize Korean language learning clubs on campus, and receive positive responses from those interested in Korean culture. Sometimes missionaries deliver "lunch boxes with love" or hold a prayer meeting on campus. Then, PCM missionaries invite those who are interested in Christianity or Korean culture to a local church. The local church opens the hearts of students through various activities such as Korean cooking classes and multiple cultural experiences such as K-dramas, K-pop, and games. These activities open the doors to people who are from Buddhist and Taoist cultures. In this way, they let go of their prejudices about the church one by one. Above all, as the Holy Spirit works on their minds, missionaries can suggest Bible study.
We hope more of our young people from all around the world will join this wonderful movement on campuses in the NSD territories in the future.