Jeong SoYeong (Theology Department, Class of 2017), who had worked as a fixed-contract school counselor since graduation, decided to donate 10 million won ($8,000 USD) in scholarships for the Theology Department.

She credited the donation in thanks to several donors, professors, and seniors who provided her with financial support so she could complete her studies without much difficulty. "I hope my donation can help my juniors and inspire them to extend a helping hand for their juniors in the future," Jeong said. "In this regard, I believe donation creates a virtuous cycle."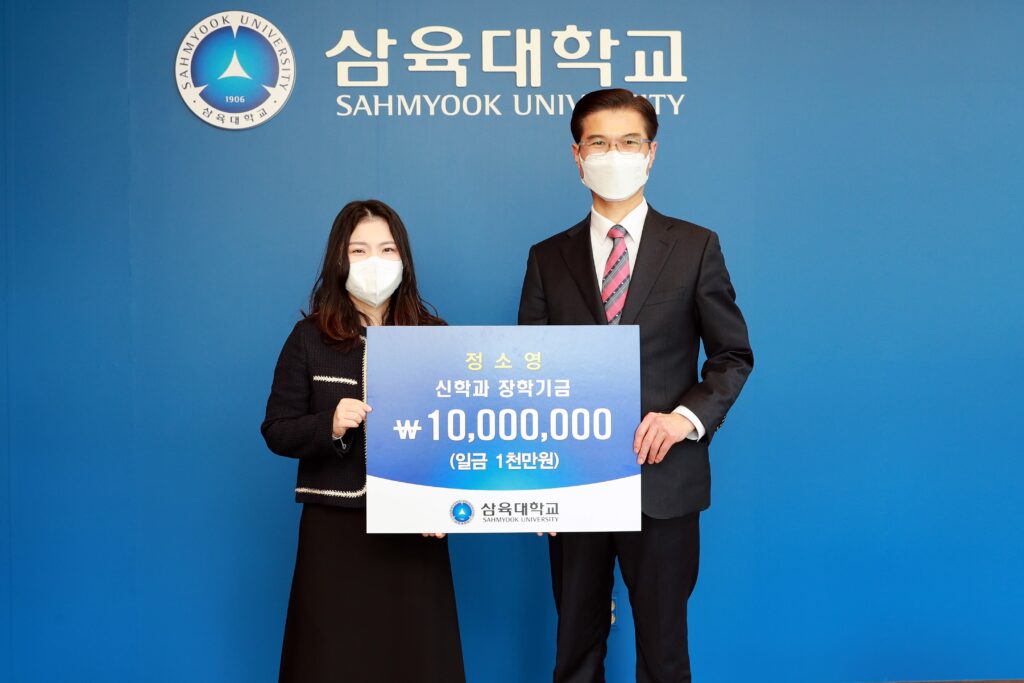 Jeong's donation resulted in savings from a part of her monthly wages while working as a fixed-contract school counselor. "I know it's not a small amount for a young adult who has just begun her real working life in society; however, I believe donating is rather a more significant and greater investment because you're spending your money for something valuable and meaningful," she said.
Recently Jeong was hired in a counseling job at a private middle school in Seoul and began working in March 2022.
Jeong was a sophomore at Sahmyook University when she began dreaming of becoming a school counselor after running a counseling booth with her friends at the university festival. While she hadn't had any professional counseling training, students who visited the booth found a conversation with her comforting and helpful. Wishing to be able to provide more significant and practical help to others through professional counseling, the young theology major then signed up for a double major the next semester and took courses in counseling psychology as well as teaching.
Participating in the school counseling internship program, Jeong found it was very rewarding to provide counseling to middle and high school students, and she began to shape her plan to become a professional school counselor.
"Witnessing students with psychological and emotional issues look into their deepest inner-self and experience change and improvement, I learned that counseling means to accompany them on one of the most exceptional and important journeys in their lives," Jeong said. "There are frustrated students who have possibilities yet are not able to reach their full potential due to their circumstances or unexpected events. I want to be a counselor who walks with them and is with them in their most exceptional and shining moments."