Adventist Possibility Ministries (APM) affirms that all are gifted, needed, and treasured; people go where they are welcomed but stay where they are valued; value is inherent through creation and not determined by what a person can or cannot do; each person is unique and has a God-given purpose; included in that purpose is the call to enrich the lives of others which flows out of a sense of gratitude for what they themselves have received.
Each year Adventist Possibility Ministries celebrates a special Sabbath with the purpose to create awareness and to reach families with disabilities. For the second year the sermon for this special Sabbath has been translated, distributed, and preached by our pastors and leaders in their congregations throughout Mongolia.'Sharing the Love' was the theme that mobilized the Mongolia Mission Adventist Possibility Ministryand Volunteer Service to reach children with special needs. A total of 30 families participated in the program. It is a blessing to report that 11 out of 30 families are SDA families with 19 from non-Adventist families.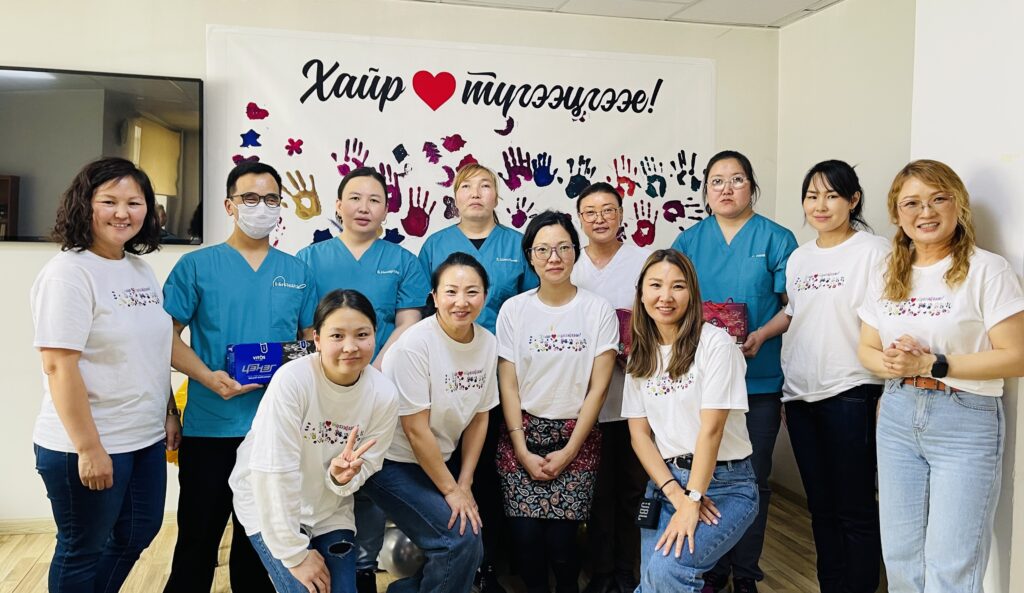 Children's ages ranged from 2-15 years old; organizers contacted each family asking what they would like to receive as supplies or gifts for their children. They received positive responses and the children were provided with toys and supplies.
The "Share the Love" service was held at Emmanuel Church for Ulaanbaatar residents, chosen because it is wheelchair accessible. During the program APM brochures and the book "The Final Hope" by Clifford Goldstein were distributed to the community.
Families and children appreciated the gifts they received, and each child took home a heart craft they made with their parents. During the program, parents were provided a relaxing massage by the National Association of the Blind Chiropractor. The parents who received the massages were happy and grateful. "In their daily routine parents provide massage for their children, but not for themselves," said one of the organizers.
"Today was a day full of joy, laughter, and tears where my beautiful children enjoyed one of the most remarkable days in the year. Thank you for your kindness and love. Thank you for the team who provided vitamins, pampers, napkins, toys, special medicine, school supplies for every child with special needs. Also, thank you for the best massage by the blind chiropractors. Thank you for the good meal, music, insightful speech, photos full of memories, and the wonderful day where we met nice people who we haven't seen for a long time," said one of the mothers who participated in the program.
Special thanks to the Northern Asia-Pacific Division APM, the Andrew Chia family for their financial support and donations, and for the Emmanuel church for opening its doors to the children and their family members. We are grateful for being able to host this program twice a year for these children through the generosity of many people. It is important to keep these children with special needs in our daily prayers. Pray for them to listen to God's voice and accept Jesus as their Savior and may they one day receive the gift of new healthy bodies. To God be the glory in touching the lives of children with special needs.